"There is no such thing as bad weather, only bad clothing."
I love to run in the winter, next to Fall, it is my favorite running season. I love the way the cold air makes you feel alive, the crispness of your breath. When it snows, I am like a kid on a snow day – I can't wait to get outside and see it. The snow insulates your run and it never feels as cold as the thermometer may show. And the beauty of it all can be literally breath taking. Plus you tend to run faster as you are trying to warm up. 🙂
Of course, I am know it is not all frosty and fun – sidewalks that aren't shoveled can pose a real danger to running in the road, sometimes the cold can give you a bit of trouble breathing and those icy slushy parts are a bone chiller. But at the end of the day, I will take a snowstorm over summer's humidity any time.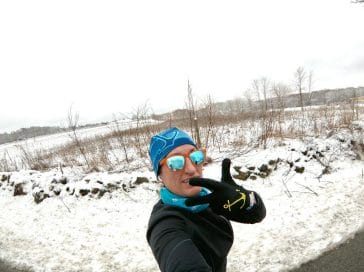 I have been able to run outside throughout the winter season as I have accumulated quite a bit of good cold weather running gear over the years. The key to enjoying it all is just to dress properly and in layers. Growing up in NH – we were used to snow, so not only are these good gear items below, there are some tips to staying warm.
There is a reason that we love BocoGear here at Rhode Races – these guys know winter running. Based in Colorado and started by an accomplished runner and triathlete that has been in the industry for years, Kay Martin knows her stuff. It is warm, wicking and comfortable to wear. Many of my recommendations are found on our website, but if you want something that isn't Rhode Races based (and why would you!) check out the BocoGear site directly.
BocoGear Beanie – while I do wear a trucker or baseball hat year round to keep the sun (and ponytail hair) off my face, I swap this out for a run beanie once we are under 40 degrees. I want the coverage for my ears and to prevent too much heat from escaping from my body via my head. I have not had much luck with a pompom as all the bouncing from running causes the hat to slide off my head. But the beanie is perfect – so lightweight, wicking and warm but most importantly – doesn't slide up and off my head. And if you get bored with one side, they are reversible.
BocoGear RunGlove (or Converter Mitten) – My hands are ALWAYS cold, I wear gloves as soon as the weather drops below 50 degrees. I may take them off and stick them in my pockets once I warm up, but if my hands are warm, the rest of me is warm. I have bought, and lost, more pairs of run gloves than I care to admit. But these RunGloves are the bomb! Not only are they incredibly warm, they have touch-sensitive finger tips that actually work on devices. They also have this great grippy palm that I just love. And while we don't sell them, BocoGear makes a converter mitten version for the coldest of days.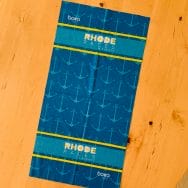 BocoGear Gaiter – I have been wearing a gaiter for winter running and skiing long before it was the "in" thing to do. They are so lightweight, protect your lungs against the cold air and are totally breathable. The trick to wearing one while you run is just to tuck the top of it under the bridge of your sunglasses, this prevents it from sliding down while you run and gives you some great coverage. I recently went skiing and doubled up our BocoGear TechX Mask with the gaiter and not only was this the best protection around for COVID, but it was also incredibly warm while being so comfortable for breathing. I will say that wearing the TechX mask, without the filter, is also great for winter running. Save the filter for when you are in close proximity to others.
Goodr sunglasses – not only can snow be bright and blinding, it can also feel like bullets in your eyes as snowflakes are driven into them. Therefore – sunglasses are a must year round. I love the Goodr ones as they are cheap ($25!), come in all sorts of fun colors, don't slip down your nose, no bounce and are super lightweight. (see a lightweight theme here? The last thing I need these days is more weight on my knees when I run! Every ounce counts)

BocoGear 1/4 socks – while I typically just wear the shorty runner socks, during the winter – I opt for the 1/4 length as I don't want ANY exposed skin. I tuck them right under my running tights so that my ankles are covered up. These have a nice wicking material to them, which helps keep my feet dry and warm, and wear longer than a traditional cotton sock.
Now that the extremities are covered, let's move to the main body.
Wicking Mockneck – I typically just wear my long sleeve race shirts when I run, and change out my lightweight run jacket for my heavier weight one. But occasionally, when it is REALLY cold, I have a compression mockneck that I bought from the Champion collection back when Target carried it. They don't offer this brand anymore, but I also have a few 1/4 zip Rhode Master shirts that are a bit thicker than a traditional race shirt. They also have that thumb-hole in their sleeves to help protect your hands from the cold a bit more. (Another benefit to being a Rhode Master – great gear!)
Running Tights – I have had tights from many different suppliers before, and I have to say that I am not super picky. For me – the key to cold weather running is to wear 2 pairs of tights – or one pair of compression tights. If it is 30-50 degrees, I go with one pair of compression tights. For anything less than 30 degrees, I double up. I bought these ones on Amazon as part of a Black Friday deal and they are actually REALLY comfortable. I also have a few pairs from Target that I really like, but are no longer available. I don't spend a lot on my running gear. My favorite winter running pant is called the Boston pant from Saucony – SUPER old school, I wear them running, snowshoeing and winter hiking. They are loose fitting and more "cottony" and are perfect to layer on top of traditional running tights.
Jacket – While I have a few lighter weight jackets, I have two "winter" ones that I swap between. I wear a NorthFace running jacket from our Rhode Masters in 2016 that is a great running jacket. I use that when the temperature is 40-50 degrees. Under 40 degrees and I opt for a New Balance jacket my sister gave me a few years back. It has an asymmetrical zip that I just love, a high neck and this wicking material in the liner that helps keep the heat in and close to my core.
So enjoy the winter running – appreciate it like a kid who loves to play in a snow day! Layer up and opt outside!