AAAahhhhh, the Ocean State Rhode Race. I do love this race, for so many reasons. First, Fall running is just gorgeous running and this weekend in October, in Narragansett, has such beautiful, foliage filled backroads with peeks at Narragansett Bay, peaceful Narrow River and stunning Bonnet Shores. Secondly, the race has its history in a rich running tradition, as the Ocean State Marathon was one of the first marathons here in RI, so we created it as an homage to that event. Finally – it is the unofficial end to our racing season. 😉 But I think my favorite part of this race is that it was the ONLY race held in 2020, so we can safely say "annual" and mean it!
This event boasts 3 events going off within 45 mins – the full marathon, half and 5k – which means we get such a wide variety of runners, from seasoned 50 Staters to first time racers. The excitement at the start is so palatable as a result – it is electric. The race just continues to grow since its start in 2015 with this year being our biggest field, we are expecting over 1200 runners across the 3 distances.
Logistically, this race is easy for runners. Parking is close and abundant at the Town Beach lots, no shuttles needed! You can stay warm and dry in your car, watching the sunrise at one of the most famous beaches in RI in the shadows of the Towers, before meandering over to the start. While Narragansett is CRAZY in the summer time, there are no traffic issues to worry about on race day as we are out of season. It really is a perfect time to enjoy Narragansett.
We start race weekend with bib pick up on Friday night at Rhode Runner in Providence from 5-7p, or Saturday at Sons of Liberty Distillery in South Kingstown from noon to 5p. We do have race morning pick up if needed right at the race festival site, but we always recommend picking up early for a stress free morning. As an added bonus this year, if you pick up on Saturday, SOL will give you a free pint of Chair 2 Light Beer!
Parking is in the South and West lots of the Town Beach but if those lots fill up, there is loads of on-street parking near the Beach. Once you park, head to the North parking lot, just look for all the tents. The start is actually right on Boston Neck Rd, adjacent to the finish, but please don't line up until the police close the road. Start for the full marathon is at 7:30am, half is 8am and 5k is 8:15am. Make sure you do not cross the starting mats until your assigned race is due to start. We do have a strict six hour cut-off with the race, so anyone with an expected finish time of greater than 5.5 hours will be assigned to the Early Start corral of 6:30am. We do this as we feel like it is more important to provide the support you need at the end of the race, rather than the beginning, when you need it most. You can read more about our Early Start option in our FAQs.
All 3 races have the same first 1.5 miles, up iconic Boston Neck Rd and past the Chaffee preserve and over our first estuary. There is a right hand turn onto Old Boston Neck Rd., along some gorgeous stone walls and beautiful homes. Mile 1 is right at this turn. The 5k turns around at the end of this side street and heads back the way it came to the finish line. There is an aid station at this turn around for all 3 events.
The full and the half take a right and continue onto Boston Neck Rd., heading towards "downtown" Narragansett, although this is likely a misnomer. Miles 2 and 3 are along Boston Neck Rd as we head North. There is a right hand turn just before Mile 4 as we start to drop into the Bonnet Shores Fire District.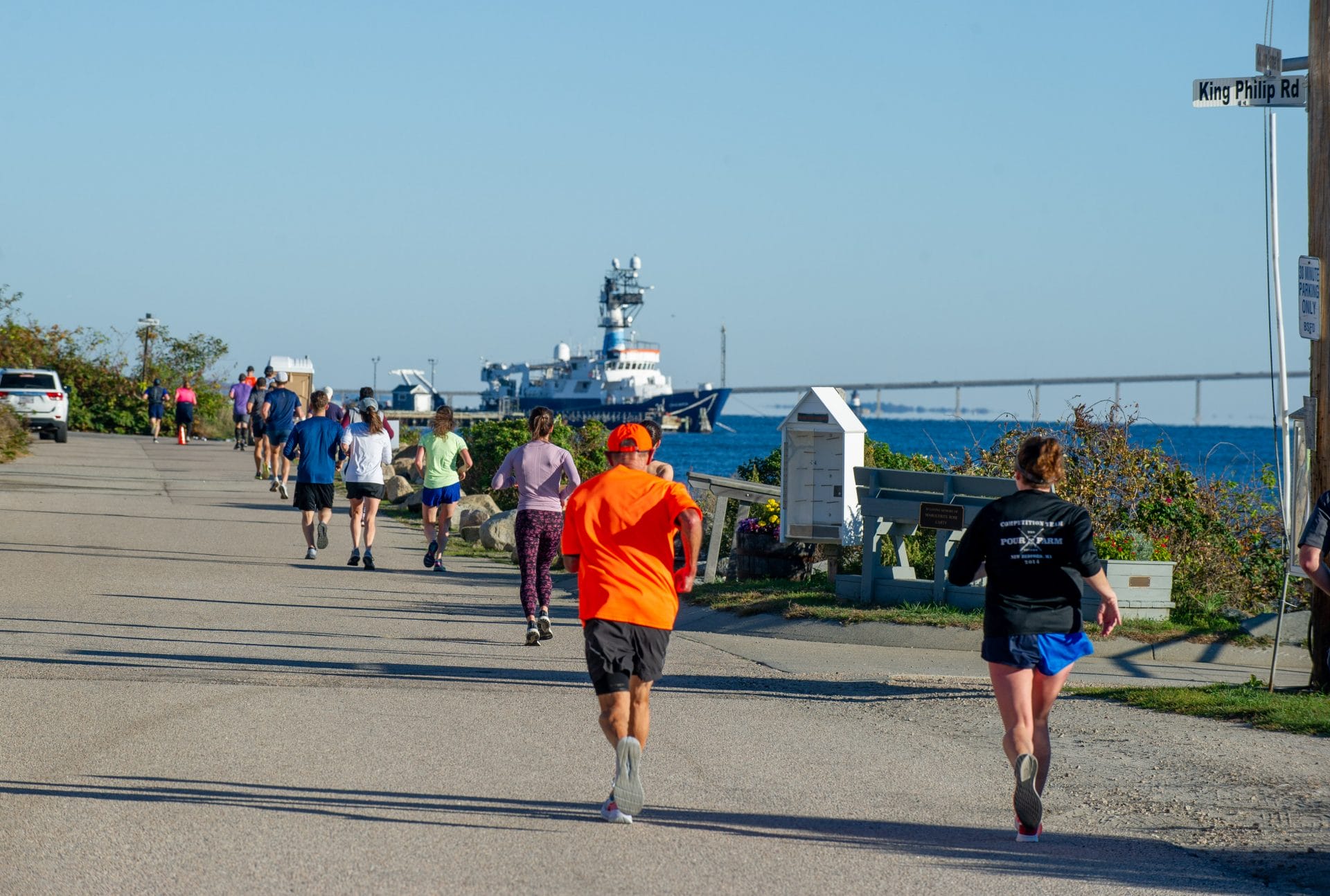 Bonnet Shores host miles 4-7 and the course does start to roll a bit here, but we run through seagrass, past dunes and in an exclusive neighborhood that we are lucky to enjoy. Mile 6 is likely my favorite mile in all of our races, as you enjoy INCREDIBLE views of Narragansett Bay, the Pell Bridge and most often than not, URI's Cutter ship, docked up the coastline.
Mile 6 and 7 you are climbing out of Bonnet back to scenic 1A. Once you are back on the main road, the full and the half marathon diverge just before mile 8. The half takes a left onto Bridgetown Rd and meets the back half of the marathon course, which is their mile ~21.5, but for the half, it is just past mile 8. The half marathon only has about a half mile that it does not share with the full throughout the course.
The full marathon on the other hand heads straight at this intersection, due North, along scenic 1A. For miles 8 and 9, be sure to peek right and get glimpses of the Bay as we run past farms and foliage.
Just past mile 10, we take a left hand turn onto Snuff Mill Rd, passing near Gilbert Stuart's home. For our history buffs, Gilbert Stuart is a colonial era painter, most famous for his unfinished portrait of George Washington. Miles 11 and 12 are along this beautiful backroad.
We rejoin Scenic 1A just before mile 13 and we head out to North Kingstown and around their high school for the turn around, just past mile 14. Miles 15-20, we retrace our steps back down Scenic 1A with Gilbert Stuart Rd and Snuff Mill.
Just before mile 21, we take a right hand turn through a neighborhood, and we pick up the half marathon route as we run towards the Narrow River, up Bridgetown Rd. Just before mile 22, we take a left onto Middlebridge and run along the Narrow River. This spot has a personal connection as I spent a few years rowing along the Narrow River as a member of the URI Crew team. Luckily miles 22-24 are mostly flat as you run along the river. As we cross the Narrow River, there is a kayak stand that makes for a very scenic spot. This is also around mile 11 for the half marathon.
We run out of the Narrow River area and head back to Boston Neck Rd, rejoining just before mile 25. The half marathon does take a little jog through a neighborhood just before this, to make up a bit of mileage for the correct half marathon mileage. Just be aware at this intersection that the full marathon goes straight and the half takes a brief right. There is a BIG sign at this intersection. 🙂
Both courses take a right onto Boston Neck Rd and run straight back to the finish at Narragansett Town Beach, utilizing the same last mile as the first mile of the race. The finish line is right in the parking lot so be sure to take the sharp right, right after the Bathhouse to enter the parking lot.
Hopefully we have a beautiful day and you can take that post-race picture right on the beach to share with all your family and friends! Thank you so much for joining us in South County as we help you accomplish your running goals.