We have started this series where we give a quick overview as to what to expect on race day. With our summer classic next month – the Independence Rhode Race – we wanted to take some time here to focus on this event.
This half marathon originated in 2015 as part of the famous Bristol 4th of July Celebration – the oldest continuous parade in America. If you haven't yet seen the parade, I highly recommend doing so – while Bristol is a beautiful community year in and year out, it really shines in the 2 weeks before the 4th. I think the free outdoor concerts are my favorite part of the festivities but there are a whole lot more activities than just the parade!
As a little background, we have had to tweak the course in the last few years. Many have asked why we no longer use Colt State Park: the Department of Environmental Management, which manages Colt State Park as well as the East Bay Bike Path, has put a moratorium on events from Memorial Day to Labor Day – even for events in place before this moratorium such as ours. So our choice was to either move the date of the race, or change the course. As the race is part of the 4th of July Celebration, we couldn't move the date – so we moved the course! The new course does showcase more of the parade route, iconic Bristol locations and the historic downtown sections. It did make for a bit of a challenge to find 13.1 miles in southern Bristol that is safe, but we have worked with our USATF certifier this year and found a legit half marathon course that we are pretty happy with! There is a few small sections with a mixture of surfaces, but that adds a bit of a fun element to the race!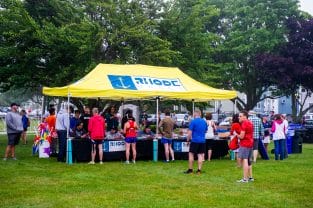 So to start – BIB PICK UP is easy and quick. We will be at Rhode Runner on N. Main in Providence on Thursday from 5-7p, and at the beautiful Bristol Maritime Center on Thames St Friday from 3-7p. We do have race day bib pick up but we HIGHLY recommend picking up early. As the race has an early start, you would have to be there EVEN EARLIER to ensure you are checked in and ready to go for the on-time start. As a reminder, you do need to show ID to pick up your bib.
While there is no PARKING at the race start, Bristol has plenty of on-street or public parking options. They host a couple hundred people each night for the concerts at Independence Park, so we have no problem with available parking. Guiteras School, Washington St, Hope St or any of the side streets off of Hope are great options, and there are a few public lots further down on Thames St.
START/FINISH The race does have an early start – 6:30am. This is to try and avoid much of the heat from an early summer race, but also because Bristol does get busy later in the day this time of year, so we do need to be off the streets early. For this reason – the race has a 3.5 hour time limit, but if you need more time than this – we offer an Early Start option. Please reach out to us at info@rhoderaces.us for more information if this is of interest to you.
COURSE The start is right on Thames St, just up a few feet from the finish at Independence Park, at the intersection of Oliver St and the bike path. The start is flat and fast, racing along Thames St and the old mills along the water. You will take a quick left on Constitution and then a right onto Hope St and now you are on the parade route with the red, white and blue center line. The race follows the coast, passing the famous America's Cup Museum – check out the beautiful boats as you pass mile 1.
After Hope St transitions to Ferry, you will take a right onto Blithewold's property and enjoy some off-road terrain. It is a popular walking route of shells and grass, so the path is in great shape. Blithewold is a 33-acre summer estate with grand views of Narragansett Bay and is nationally significant in American history as one of the most fully developed and authentic examples of the Country Place Era. It is well known for its gardens so be sure to enjoy the beautiful landscaping as you pass through mile 2.
Once you exit Blithewold, you hop back onto Ferry briefly before a loop through Low Lane and Monkeywrench for mile 3 – which is a neighborhood of just stunning homes. This does have a bit of a downhill and then a climb back up so prepare for that.
You will cross Ferry to Old Ferry and then enjoy a beautiful downhill to a view rarely seen, underneath the Mt Hope bridge – it truly will take your breath away. There is an aid station there and a turn around point to head back up the hill, and into Roger Williams University and mile 4.
Mile 5 is in RWU as we take a quick tour of the campus, including their boat house and shell path along Mt Hope Bay. There is a bit of downhill towards the water and then a climb back up and out the campus as we exit onto Metacom, some brief mileage here before we turn left and back towards the historic homes of downtown Bristol.
The next few miles we criss cross the parade route a few times as we run past historic sailing homes, an original RI State House and Bristol's courtyard.
There is a climb at mile 11 as we head towards the region's High School at mile 12 (I do coach cross country at this high school so this hill is part of our daily workout, as is much of this course!). There is a lovely downhill as we head back towards Hope St and then a flat along Hope St, a slight right onto Thames and then finishing up waterside in Independence Park.
AID STATIONS – Each aid station will have a portable toilet or two. We will also have water, nuun and Clif. You can bring your own water bottle or Hydrapak cup for a more environmentally friendly solution – the aid stations will have pitchers for quick refills. Each mile marker will have a 5 gallon bucket for any trash, especially those terrible gel packets that are the bane of our environmental initiatives! Please try to dispose of all your trash, clothing, cast offs in these buckets (or at least as close as you can toss them to the bucket). The later aid stations will also have vaseline, cramp cream, band aids, etc. If at any point during your race you need medical assistance or transportation, you can ask the aid station volunteers to call our roving on-course vehicles for you. The RaceJoy app also has an SOS function in which we can track your GPS locations for pick up. We will have ambulances on course for medical assistance as well.
ATHLETE TRACKING – We also recommend using RaceJoy as your family and friends can track your exact location via the GPS in your phone, as well as send you cheers along the way! Thanks to Shimmerwood Beverages, this app is free to both you and your Cheer-squad. RaceJoy also has off course alerts, pace notifications, and some great points of interest along the course that will play as you run past them.
POST RACE – The finish is right at Independence Park on Thames St. You can sign up to have your results texted right to you at this link. We will send the official race photos in a few days following the event. We will have a few options for post-race food for our Athletes, as well as a Recovery Tent, thanks to OPT/Pappas Physical Therapy. But please check out some of the great local restaurants and shops and help support other small businesses in the area. Stay and enjoy the concert that night at the Park – it is a great time for young and old alike! Tag #RhodeRaces for a chance to be featured on our socials!
We hope this answered many of your questions but please check out our FAQs and Athlete Guide (available 6/1, posted on RhodeRaces.com under EVENTS, BRISTOL, PARTICIPANTS) for even more information. Be sure to check out our race video to get a true feeling of what race day will look like.  Thanks for joining us for this most patriotic of road races and we hope you will join us again!